The Road so Far  for Glowing Eye Games
Here at Glowing Eye Games we're a small company of only ten people, quietly confident in the fun games we make. With eight years under our belt we've become a well-oiled machine; a great team who are dedicated to producing games of the highest quality that you can enjoy.
As the newest member of the team I've taken it upon myself to delve into the history of Glowing Eye Games, interviewing our Managing Director, Head of Production and our Associate Producer for a little inside knowledge. First for the quick low down: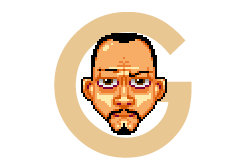 Mark Klocek
Managing Director
Previously Worked at: – Glu Mobile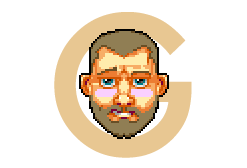 Max Brode
Head of Production
Previously Worked at: – Sega & EA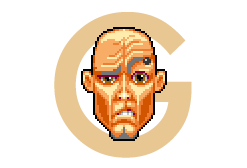 David Brown
Associate Producer
Previously Worked at: – EA
In the beginning
Even before the introduction of the iPhone and App Store our dear leader J, Mark, was already working on mobile games. He worked with the talented team at Glu Mobile – recently famous for the ridiculously popular Kim Kardashian game – but after a few years it was time to break. With a tiny loan he set out and created Glowing Eye Games, although at the start it was all about online games. Initially there were a few experiments. The first was Star Crash, a simple game made on a shoe string budget. The aim of Star Crash was simply to test the process and the market allowing Mark to start on much more ambitious projects.  Some of these never saw the light of day, but from each one he learned something new. After a few trials Glowing Eye Games finally developed its first big success in Magic Towers Solitaire, which is still one of our most popular games today.
Interestingly Magic Towers was created purely as a smaller game while working on other projects. It's success and the reaction from players was a pleasant surprise. It showed there was this untapped niche in simple card games that had been unexplored. I mean, you can get standard versions of solitaire on your computer, but you have to admit they can be a bit bland. Glowing Eye Game saw the potential in making these games fun and appealing again, with lots of bright colours, friendly characters and making them smooth, slick and easy to use. Glowing Eye Games' had found its niche. With this minor triumph came the launch of Solitaire Paradise – a website that still has our games today (solitaireparadise.com if you're interested wink).
The Fruits of Success
With the release of Pyramid Solitaire Ancient Egypt, the number of players continued to increase and the work soon became too much for one person. Although Mark had worked with freelance programmers and artists in the past, Glowing Eye Games needed its own team to create the quantity and quality of games that the players wanted. With that in mind Mark approached Chris – an old friend and gifted programmer – Katie, Chris' wife, who happened to be a talented artist and quickly taught herself in magical craft of Photoshop and Illustrator. Shortly after it was clear that a producer was needed. Which is where Max bursts through the door. Well actually he is impeccably well mannered, so he knocked!
German, born and bred, Max took his first steps in the game industry at Sega (armed with an incredibly relevant English Literature degree).  Starting out as a language tester, friendship and talent blossomed into an opportunity in producing. With major successes like Sonic Jump, Max became a rock-solid producer but due to company instability decided that going freelance would be a better option. Of course as Glowing Eye Games' work load grew Max was happy to settle down and bring his talents permanently to the team.
Around the time of Max's hire, Kawe also joined the team. As a friend from Mark's Glu days he fit right in, and he previously created the artwork for Pyramid Solitaire – Ancient Egypt. He brought Gregg on board and now they've become lead artist and head of development respectively. At this point Glowing Eye Games had branched out and was experimenting with domino games, namely Mexican Train Dominoes Gold, which is still steaming along today.
In the next couple of years our team expanded once again with the hire of Alessio, a programmer, Stephanie, our games tester, and David our associate producer. Like Mark and Max, David pre-dates the app store (his words, not mine!) and has spent years in the games industry. Working as a games tester with the giant EA, he went the same route as Max and became a producer. He worked on some great games, including the smash hits Burn Out and Cranium, but felt that his time with the games industry had come to a close. That was until he heard the strong call of Glowing Eye Games and couldn't resist jumping straight back in. As an associate producer he's in charge of localisation, translating our games so they can be played across the world and managing the testing process.
Finally of course there is me, Jasmine. I'm rather new here, only three weeks in and clearly hired because of my witty quips and unrelenting optimism (or maybe Mark just needed someone to manage the social media… See what I mean about the optimism?). Either way, they've let me loose in the blog section and you'll be hearing a lot more from me!
Now that you know all the ins and outs of our past and our team, I'm sure that your dying to know what we've been working on recently.
Coming soon
Our games have been on the App store for a long time, and we've built quite a following. We've been so focused on other projects that we haven't had the time to update them yet. But recently we've decided to take the plunge. Currently we're in the process of modernising them to get the most of out of the iPhones and iPads you enjoy them on. We've been rebuilding them so they are easier to update, more beautiful and even more fun.
Right now we are working on Golf Solitaire Pro and Pyramid Solitaire – Ancient Egypt.
Take a look at Ancient Egypt
Before: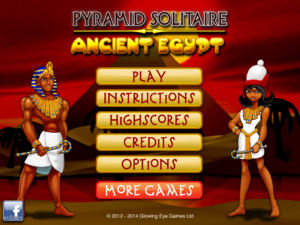 After: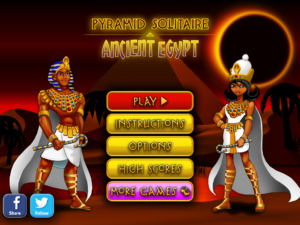 As you can see the original style remains, but we've got better fonts, the background is stronger and the outfits have gone through a complete makeover!
And we are also working on one of Katie's earliest games, Forty Thieves Solitaire Gold. With all the experience she has racked up over the years we felt that we could make it even more enticing and playable.
The progress so far:
You may be familiar with these screenshots. We're still pretty proud of the artwork for Forty Thieves, but considering that it's one of our earlier games it's due for an update.
Our artists and programmers have worked relentlessly to bring you these scenes. We decided that Forty Thieves was missing something, in particular some characters. So drawing inspiration from the Arabian fairy tale we created some great characters, which you can see here:
We've also given the backgrounds and once over too! And a big change we made is to the cards, now on a white background and a better font they're much easier to read.
I think that just about brings us to the end of the post. Thanks for playing our games, and please continue to give us such great reviews, we really, really appreciate it.
That's all for now, speak to you next time!