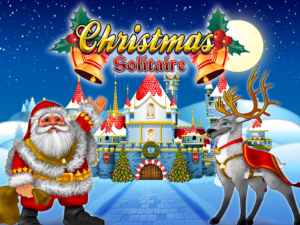 Sing it with me! 'Tis the season for a themed game, fa-la-la-la' – Too soon? Alright, I'll stop, but for some gamers, holiday themes are what get them in a celebratory mood. From festive Christmas to bunny-bouncing Easter, there seems to be no end to the party with games transforming month after month to suit the season.
Glowing Eye Games knows its customers love a game to stay familiar and at its best, so we never adopt seasonal skins. We do, however, provide whole games devoted to specific holidays. For example, Halloween Solitaire is beloved by all those who fancy a horror themed card game to get their spines tingling. Christmas Solitaire Tripeaks also suits the cozier, more festive feel that we all love about Christmas.
We have had our share of experimentation. Our green-themed St Patrick's Tripeaks Solitaire never did us any favors and no one seemed to be interested enough to get fully on board. What we found from that experience was that our customers are led by a need for atmosphere. A seasonal game is not just a selection of themed images, but it has a specific feel. Halloween Solitaire is so popular because it is drenched in gothic iconography, spooky sound effects, bespoke cards with beloved legendary figures and eerie animations. Similarly, the soft jingling of bells, snowy landscape and a welcoming, rosy-cheeked Santa Claus give a perfect sense of Christmas. They are also accessible. From grandparents to children, and everyone in-between, these games are for everyone.
Both our Halloween and Christmas solitaire games are just another element of a person's life that they can integrate into their celebration. Bake some gingerbread, pour a festive tipple, decorate your home, stick on a festive film or play some Christmas tunes. What would top that off better than settling down to a winter wonderland you can hold in the palm of your hand?
Seasonal games slot into a certain time, but we've found they are actually played all year round. Maybe it's the comfort of a familiar game, perhaps they appreciate the artistry, or maybe they like to, now and again, unlock the sensation of a time they feel most joyful. We don't think there should ever be a time limit on that.