Magic Towers Solitaire is Glowing Eye Games' most long-lived game. The two games that came before it are lost to the mists of time. However, this game is still going 14 years later and was big enough online that Glowing Eye Games could actually hire people.
It's an example of a simple game doing one thing really, really well. Even now after years of gradual decline and fairly small updates it gives us a meaningful amount of revenue despite the competition for tripeaks solitaire games being absolutely bonkers these days. In comparison to other games out there its incredibly basic, it has one level. Yet players have kept on coming back year on year. I've questioned why in the past, and really it just boils down to a few things.
It feels good, the graphics and setting are calming. The green countryside and the magic of the castle appearing is a reward that seems to hit the spot.
The cards, and I sound a little bit nuts for saying it, move right. The amount of solitaire games where the cards don't move fluidly, or too slowly, or too quickly annoy me so much!
The game difficulty is beautifully balanced, so when you start you always feel like you can win, but it's not necessarily easy or too hard!
It isn't pay to win. Sure, that's the most profitable model for making a mobile game these days, if you can get the players, but by its nature it forces players to decide if they just want to give up every time they need to pay! At some point we do need to add more ways of monetising beyond adverts and an upgrade, but the advert supported business model has its own advantages. The most important being that as long as your game has short play levels, you really can do whatever you like in terms of progression and fun.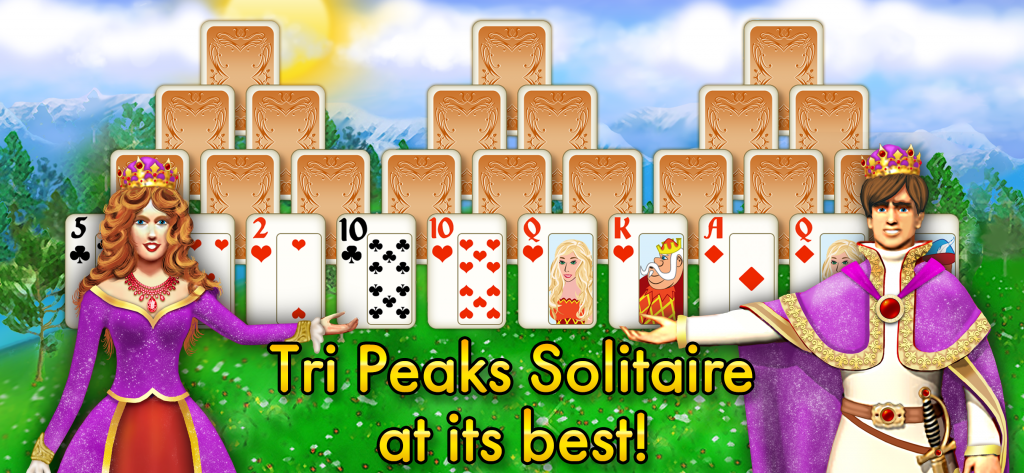 In the years since it was made, we did one great thing that didn't work out financially but forced us to look at our own games. We made a variant for Skillz, and the talented folk there pushed us to make the best Tri Peaks Solitaire game we've ever made. In particular the project forced us to create new levels and increase the variety. Finally, we've been ready to roll that back into Magic Towers. The trick with such a big upgrade is to do everything to make sure that current players feel they are 100% getting their beloved game, but even better. It's what Apple has been doing with iPhones, each iteration almost without exception looks and feels like an evolution of the last one, sometimes they even gave us a revolution.
On the art side we've added more relaxing locations. They've been beautifully made by Katie our artist, who didn't make the original, and yet the graphics feel like they fit perfectly.
The game's got 30 levels now, so it's thirty times bigger 🙂 We've also made sure the classic game that players know is still there as an easy to find option on the main menu. I hope that they'll vote with their fingers and the majority will be playing the all new and improved version, but if it's too far out of their comfort zone they can return to what they love.
The final change is that the new game mode with all those juicy levels, saves your score for a week before challenging you to beat last week's top score. We know you're going to come back, so how about you try and out play last week you? I've got to say I'm slightly worried by that change, but I wanted that particular challenge to be friendly to players who come back after a gap. The advertising supported mobile games model, means that people are going to try other games. You're doing incredibly well if after they try something new, they want to come back. That's the hallmark of a classic and hopefully this update to scoring mechanism facilitates that in a way that the fans will enjoy.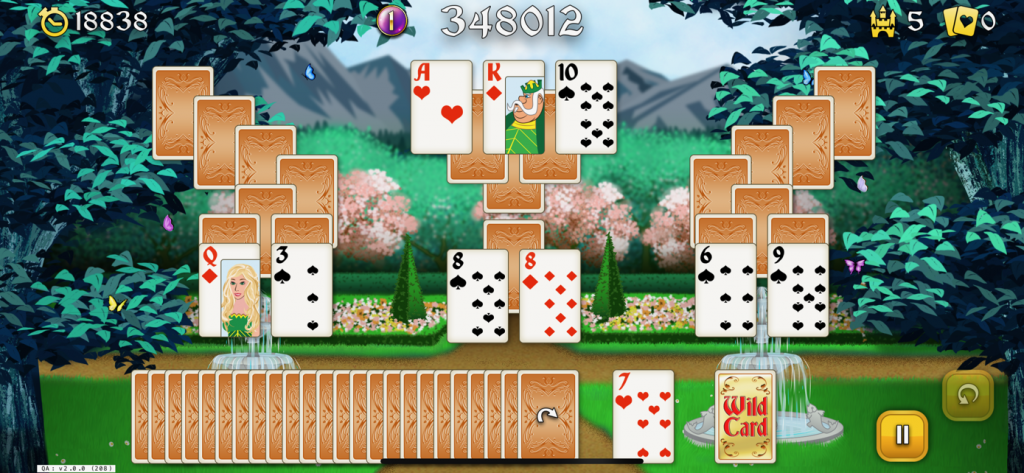 On a lovely company note, Evie our Head of QA was playing with (I mean testing!) the level designer and created some great levels to the point where we expanded the game to fit them in. That's a great thing that I hope Glowing Eye Games allows for the team, maybe not often enough, but a chance to do something that's enjoyable and doesn't quite fit the job description. The kind of projects that allow for personal growth. She's got two lines in the credits now, and I got the chance to register a bug for her to fix for a change!
Now it's nearing completion and should get released first on iOS in November we can only let the players decide but we're really happy how this one has turned out. With our customer support set-up we've also got a great way to capture feedback, maybe they'll tell us we're doing things right, but if they don't, we can make further improvements. With all this work, I trust that Magic Towers Solitaire will be enjoyed for another 14 years!