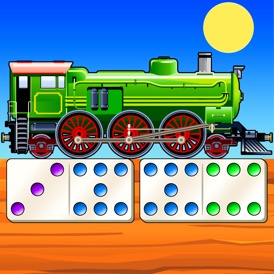 All aboard!
Our game, Mexican Train Dominoes Gold, has been chugging along with a myriad of happy passengers for years now, becoming a firm favourite at your fingertips. Over that time, veterans and newcomers to the game alike have contacted us about the rules, origins and tactics, so much so we went ahead and made our very own website dedicated to the grand game of Mexican Train Dominoes.
Click here to visit the site!
To keep our game clear of extensive and wordy rules, you can peruse the site at your own leisure, taking in the basics to intermediate game place. There are variations to discover, hints and tips to learn, and even a printable scoresheet you can use when playing with real dominoes. And to top it all off, the step-by-step guide has some beautiful and clear illustrated instructions, so you know you're playing exactly as you should be.
And just to whet your appetite, here's a little something you might not know:
Mexican Train Dominoes' origin is shrouded in history. Some people say it was developed in Cuba, others in China, but what we do know is that Roy and Katie Parsons from Newport Coast, California, developed the game we know today. The couple copyrighted the rules for the game Train in 1994, which only lead to its renown and distribution, especially when the Puremco Company got a hold of the rights. Its popularity only grew; the rest is history.
Throughout the ensuing decades, Mexican Train Dominoes has been altered to suit each player. Some people knock on the table when they have their last tile, whereas others do not. Sometimes you can even include a whistle to blow when a player starts their train. A penny or a nickel can be used to show a train is blocked. We've even heard that when a double is played, the two tiles are hit together to sound like a passing train!
Whether you play Double-6, Double-9 or Double-12, Mexican Train Dominoes is a game that brings you together in fun-filled competition. The website is our gift from us to you.
Happy playing!