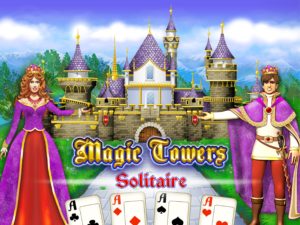 Ten years is a long time in the games business. Back then, online games made with Flash sustained thousands of small indie game developers. Games on Facebook were massive and helped build companies like Zynga and PlayFish. Slowly, old and clunky feature phones were replaced with iPhones and Android phones. The PlayStation 3 and Xbox 360 fought in the console space, whilst the Nintendo Wii delighted people of every age and gender.
This was the time in which Magic Towers Solitaire was born. It was actually the third game we had ever created and was designed to help tick us over whilst we worked on our mega downloadable PC games. The first two games before Magic Towers Solitaire are now defunct and the PC games turned out to be a venture never to take off, but Magic Towers Solitaire is a survivor, and not for any old reason.  
Magic Towers Solitaire has a devoted fanbase, history behind it and is one of the founding stones on which we expanded our company. There are so many stories to tell from Glowing Eye Games but here are some lessons for all you indie developers to help you along the way to creating and sustaining your game and business. Class, take your seats!
Lesson 1:  
Take responsibility. 
Full of beans about our new game, we hired a small contractor in the Crimea to make it. All was well at first, until the graphics came back to us. In retrospect, our art brief was poor, so at first it looked like a childish game, which was not what we wanted. This mistake was on us and one which we had to pay for – not a great sum, but the mistake was memorable. We went back to the developer and asked for changes. Although at first the air was a little tense, we managed to collaborate and discuss terms to make something better. Always remember, if you're paying for a service, don't let emotion or mistakes stop you from starting something again. There's no shame in admitting you were wrong. Even the best of us want to blame others for our mistakes, especially when working with outside sources. Take responsibility and you'll get the results you want quicker. Likewise, if your contractor doesn't take responsibility for their side, reconsider them.
Lesson 2:
Check your Trademarks!
When we first released Magic Towers, it was called Tri Towers Solitaire. OMG this was a massive mistake! Little did we know, it was already a registered trademark, so, out of the blue, we received some pretty threatening letters from the owner's lawyers. What followed was a lotof paperwork, a lotof money and a lotof time getting our renamed game updated on the thousands of small websites on which it was hosted. This was a bad burn, especially considering we could barely afford to pay wages at the time. So, don't go in blind, do your US trademark research!  This is much easier than been hounded by lawyers. (Honestly, they're good at sending the dogs after you!).
Lesson 3:
Friendly competitors are worth having. Treat them well and if they're decent they'll do the same. 
Despite the frightening lawsuit, we weren't completely down on our luck. Our previous sponsor, Jochen of Smiley Games, told us about Mindjolt, an exceptionally popular games service on Facebook at the time. Without Jochen's tip-off, our company may not have survived the year. Magic Towers Solitaire became one of Mindjolt's most popular games and even led to the creation of Pyramid Solitaire: Ancient Egypt, which is still one of our greatest successes. Jochen is now doing brilliant mobile Match 3 games and we have a good connection to this day.
Lesson 4: Maximize your distribution and platform coverage.
Back in the day, online indie games were mostly supported by other gaming websites. We'd noticed and been a part of clustering around the benefits of Facebook games, but there was still room for growth. We set up Solitaire Paradise, a website for all kinds of card games, which hosted our own and others' games. This helped bring in revenue and promote our products. Additionally, there were websites that wanted games with their branding. We made nine deals here on Magic Towers alone, mostly easy jobs that brought in more revenue. Nowadays, you can advertise and implant your game on so many app and console stores, so never pen yourself in to one sector. There are so many more options, so take your time to investigate!
Lesson 5:
Cross Promote Everywhere.
Remember Jochen from lesson 3? Well, during our time as friendly competitors, we helped each other out with some cross promotion. Cross promotion is always worth doing between your own games, especially if you have a house style. Cross promotion with friendly developers is rarer, but if there is an overlap, you know players will move on sometime. So why not to someone who can send some new players back to you?
This way, you can expand your audience, rather than having to source new customers every time you release another game. Done well, you could have a long queue of them ready for you on the release date. We also promoted across platforms. Starting off with online PC games, we branched into the iPhone with a little help from a good university friend and royalty deal we could all trust and work with. We were always bug fixing, enhancing and updating. After some time, we had some small triumphs. Our game got featured by Apple in their category lists and was the number 1 card game in Uzbekistan. I still like saying that, it did well elsewhere too, but Uzbekistan is just a great sounding name for a country! 
Lesson 6:
Thank you for your custom. Please come again!
As mentioned in the above paragraph, there are lots of thing to mull over and improve. Most of the time, you're not doing it to be fancy, it's just things that makes it better for the customer. Make fonts more readable, port to Android or iPhone, clarify graphics and simplify instructions; these are all often well-received and keep players satisfied. So, no need to rest on your laurels once you've completed the game, you've got to tend that garden and get rid of the weeds!
Lesson 7:
Change is scary, but an old game can learn new tricks.
Whilst Magic Towers Solitaire was ticking over, we decided to update Pyramid Solitaire: Ancient Egypt with new technology. We changed the timing of how the game was played and changed the graphics significantly, so that we were deluged with angry customer emails. We always take customer feedback to our heart, so we quickly went about doing a lot of fixes and alterations. Some of our changes were for the best and went unchanged, but the end result was that we lost a few customers. So, with Magic Towers Solitaire, we learnt our lesson and were far more cautious. Changes were gradual and What's New updates helped keep the customer informed and prepared. Happily, the players kept playing! The transition was as smooth as a scoop of the finest, organic ice-cream (vegan option available). 
Lesson 8: Always keep improving! 
For complete disclosure it's worth saying Magic Towers could do with some sprucing, so let's take lesson 7 and make it a practical one!
Which of these updates should we do?
– additional themes
– new levels
– statistics tracking
– enhanced graphics with particle effects (oooh fancy!)
– updated characters
– improved menus
– a simple tutorial
– a veritable boat-load of little tune-ups.
 We'll pick one or two of these with each update, just to keep the old fanbase satisfied while making it better for new players.
You see how this business works? Always maintain, update, keep it brand-spanking, sparkly new and it will seem that way to the customer, and maybe Magic Towers Solitaire will continue to bring joy and relaxation to players for another ten years!