Everything changes; there is always room for improvement, and our solitaire games can benefit from this idea. Here at Glowing Eye games we do constant tweaks and improvements to our games so our fans and players get the best experience that we possibly can make. We have to, because the genre of solitaire is so full and making our games better is probably why we are still in around after 8 years!
A few months ago we released our remake of Pyramid Solitaire Ancient Egypt. What prompted us to completely rewrite our work was that the original code was getting so hard to maintain. Naturally, doing a remake meant we wanted to keep all the things our fans love while adding enhancements that people enjoy. Any game developers might think that such a project is relatively easy, but we found that there was a lot of effort required.
So what has changed and, more importantly, why?
Let's start with the menu screen, and how we all remember it: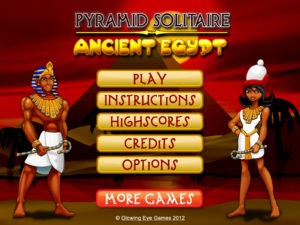 While this screen is lovely, we decided to spruce it up a little: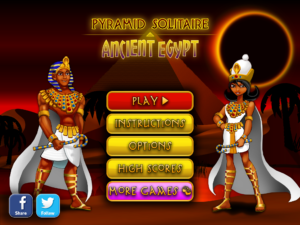 Our original artwork was good, but we had a think about how we could take it even further. The original graphics started life in our simpler, online version using a tiny resolution before being scaled up for iPhones and iPads. Of course even those resolutions are now dated and we had to support the beautiful screens that modern devices display. We enhanced the detail in the background, created the eye catching eclipse and updated our characters with beautiful new outfits. We wanted the game to feel friendly and sumptuous.
We made the game brighter and our cards easier to read, but this actually took a few attempts to get right. When you change something that some people play every day you can expect a reaction! That is exactly what happened to us until we ended up with: –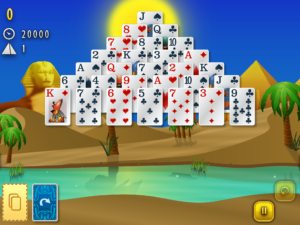 From a technical point of view, our biggest change was our game engine. Our lead programmer, Gregg, created a 2D engine based on the OpenGL. This allowed us to easily add beautiful particle effects that adorn Pyramid Solitaire Ancient Egypt and our other games, as well as making future updates easier with the continually changing iOS tech.
The final thing we did was review the game and scoring mechanics, fine tuning them to make the whole game feel slicker and better in general. We didn't quite nail this the first time, and we got a massive amount of feedback from our players!
We always put a great emphasis on the smoothness of the game, including how cards move and the timings they have while playing. We tried to match what we had previously but we made a few mistakes, and the players noticed and told us where we went wrong!!! As a team we were never sure how important those kind of things really were so it was an excellent learning experience before we fixed and improved everything so it felt awesome!
Our score tweaks also caused some issues, but after a round of improving the range of bonus scoring options we found our players were very happy with how everything worked. We are exceptionally lucky to have some very devoted fans who contacted us directly to give their opinions.
But there is one thing we discovered while making our luxurious version of Pyramid Solitaire Ancient Egypt; whatever theme we make, some people just want to play on a classic velvet green background. They find the theme distracting, and there is nothing that can change that.
So the team talked. For us, making the themed versions of these games allows us to express ourselves creatively and to create eye catching card games in a genre where so many others would benefit from crafting the experience. But like it or not, most players would never even consider the themed version because they wanted something familiar.
We feel it's important to listen to the players, even though the setting was less artistically interesting for us, we decided to try and make the traditional version of pyramid solitaire available on the iPhone or iPad. We kept the gratifying smoothness of our game, maintained the scoring system that lets you play strategically and wrapped it up in the best casino theme that we possibly could.
For this production we made it our mission to create the best classic pyramid solitaire game around. We think it's gone well and we're proud of what we've made, and now we trust that solitaire players will agree!